WordPress Theme: KISS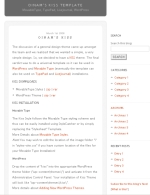 A simple two column, white and grey theme from oinam named KISS for keep it simple stupid, and the theme is simple, but effective.
The discussion of a general design theme came up amongst the team and we realized that we wanted a simple, a very simple design. So, we decided to have a KISS theme. The final verdict was to do a universal template so it can be used in WordPress and Movable Type (eventually the template can also be used on TypePad and LiveJournal) installations.
Check it out at Labs.Oinam