WordPress Theme: Kisses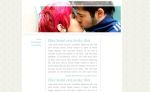 A three column design, with pages on the left, and blog functions on the right, Kisses uses soft tones, except for the image of two people kissing in its header.
This is the first of my free themes for WordPress. It isn't entirely XHTML Valid (pity, I know), but it works fine in both IE and FireFox (at least on my screen). There are a few strange things which I found out while coding. For example in IE there is a larger white space under the titel of the most recent entry. Anyway, the most important thing is that it works.
Check it out at Pinacolades.net