WordPress Theme: Flower Power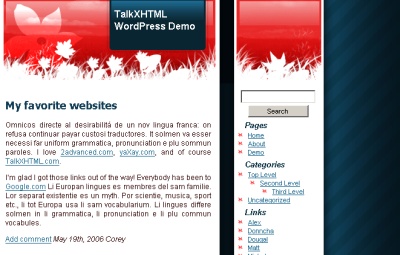 Over at TalkXHTML.com a new WordPress theme has been released called Flower Power. It is different from a lot of themes as it is left aligned, rather than centered on your screen. It is a two column theme, with some strong red and blue's to it.
It's called Flower Power version 1.0. This layout is for WordPress 2.0.x and is quite different. It's left aligned, with red and blye styling. It's narrow with bigger font than our Sweet Blossoms layout. I hope you guys like it, I'm really enjoying it, and actually it is one of my favorite themes.
Check it out over at TalkXHTML.com