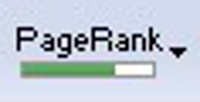 In my last post, I talked about using an SEO tool to evaluate a site's link authority. In this post, let's look at why you should be evaluating sites and how to apply the information you get from your research.
Getting quality backlinks is the best competitive advantage you can get in SEO. Backlinks are a major part of the search engines' algorithms and it's much harder to copy someone's backlinks than their keywords.
You can focus on keywords but keywords are easy to implement. Once a webmaster figures out that they are important, he can look at the free keyword tools, find relevant keywords, and then add on their website. Compare that process to building links on quality sites.
That's why the search engines place a lot of value to backlinks on their algorithms. With the early search engines, you could just place keywords on your site and you would rank pretty quickly. Savvy SEOs realized this and created many low quality sites that dominated the search results. Google became the best search engine by focusing more on links instead of keywords on a site. This focus helped Google create search results filled with more quality sites than their competitors.