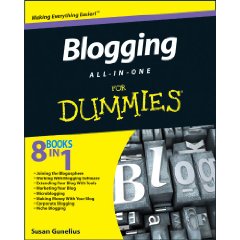 Many people like to have a book by their side as they learn something.  If you're one of those people, then you might be interested to hear that my new book, Blogging All-in-One for Dummies, is now available through Amazon, Barnes & Noble, and all other online and offline book sellers.
Blogging All-in-One for Dummies offers over 700 pages explaining anything and everything about blogging for a beginner audience, so you can start your own blog right away!  It's a perfect supplement to the content you read here on BloggingPro. The book includes 8 minibooks about starting a blog, choosing a blogging application, publishing blog content, growing your blog's audience, making money from your blog, and more.  There is even a minibook about Twitter.
While Blogging All-in-One for Dummies is certainly the most comprehensive book about blogging available, following are a few other books that I recommend:
1. The Everything Blogging Book
This book is in need of an update, but it's still an easy-to-read and understand guide to getting started as a blogger.
Blogging for Dummies is also a great beginner's guide to blogging.  This book is several hundred pages shorter than Blogging All-in-One for Dummies, so concepts are not covered as in depth as they are in my book.  However, it's still a great resource.
3. The Rough Guide to Blogging
This is a very short, very easy to read, and very simple book, which gives a great introduction to blogging.  It's outdated, but the basic concepts of blogging are delivered in such a simple way that it might be worth reading if you're an extreme novice to blogging.
This is a great guide to learn how to use WordPress as your blogging application.  I should also mention that my book about starting a blog with WordPress, The Complete Idiot's Guide to WordPress, is coming out in 2011.
I wrote this book, and it's one of the most up-to-date books to learn how to use Google's Blogger blogging application.  Many other books about Blogger haven't been updated in years, and Blogger has gone through many changes in the past year alone!
This is the best book you can buy to learn how to use TypePad, and since it wasn't published that long ago, it's quite up-to-date.
Did you use a book about blogging to help you get started as a blogger?  What book about blogging do you recommend?  Leave a comment and share your opinion.
Susan Gunelius is a published author and President & CEO of KeySplash Creative, Inc., a full-service marketing communications provider also offering branding and social media consulting services. Susan also speaks about marketing, branding and social media at events and conferences. Her marketing-related articles have appeared on Web sites such as Entrepreneur.com, Forbes.com, MSNBC.com, BusinessWeek.com, FoxBusiness.com, and more.