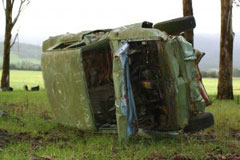 This is a guest entry by Jonathan Beebe is an online entrepreneur and writes at MMO Work.
One day, a man—let's call him Jack—was having a nice relaxing day at home, away from the office. Suddenly, he remembers that he wanted to look up this interesting thing he'd overheard one of his co-workers talking about earlier on that week. It was a strange word, "blogging", which didn't tell Jack a whole lot in itself, so he decided it was time to "Google it" and off to the computer he was.
Jack types his search in and scrolls down the listings a little until he finds one that seemed to just "call out" to him. Lo and behold, it was YOUR blog that he found! He took the time to read your entire article, learned a lot, but was craving more—needless to say, his interest was officially peaked and you've done your job perfectly thus far.
But then, just as Jack was getting ready to click on one of the "Related Articles" at the bottom of the page, his cellphone rings. He see's it's from work and immediately answers. As it turns out, Jack is needed at an important meeting that just came up. He then shuts everything down, gets himself ready, and heads off to his "surprise" work day. Read More