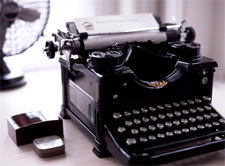 This is a guest post from Ines Maric, an Internet marketing consultant, blogger and an avid reader of everything related to marketing and psychology.
I love writing. I always did and always will. But here's the catch – there's no guarantee that if you love something, you'll automatically be good at it. Just take a look at your cousin who just won't stop singing… That's another story, though. I'm here to share 5 (and some more!) great, great things I learned from Brian Clark, probably one of the best bloggers of all time.
On his blog, Brian shares his insights about much- needed blogging skills, writing great articles, completely removing writer's block, creating attention-grasping pieces of content and the best ways to make blogs kick butt. I've been reading CopyBlogger.com for quite a while, and can proudly announce that my eyes have seen most of the words written by Clark and other great contributors that share their blogging secrets on the site.
Although it's quite hard to choose only 5 things I learned from these great writers (it sounds cheesy, but I cannot help myself), it would be very hard and time-consuming for me to write all 1,001 lessons learned. Read More