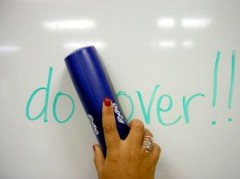 There's an old maxim in blogging that you are only as good as your last post. But what if your last post was utter garbage?
What if, rather than turning out your best work of all time you published something that immediately wish you could disown, set on fire and bury? Maybe it was riddled with factual inaccuracies that, in hindsight, seem obvious or maybe you said something without thinking that turned out to be offensive and/or insensitive.
No matter what your error ends up being, every blogger will make mistakes and some of them will be quite ugly. Even when we are careful, we sometimes say things we don't mean, get facts wrong and generally screw up.
So with it being a question of "when" and not "if" you make a mistake, the question then becomes what do you do about it? If you can't avoid mistakes, only minimize them, you have to be able to recover from them, otherwise, one blunder can turn into a landmine that can sink your site.