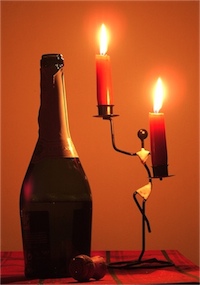 As we near the end of the year, it is a time for reflection and a time to look a head. As the time comes to turn over the calendar, its inevitable that we think about the year that has passed and what we would like for the one to come.
While this reflection can be great, it should be a part of an ongoing process, not just a once-per-year analysis. Those who wait a whole year to evaluate what/who their blogging is for. what they want to achieve and how well they are doing, are essentially driving with their eyes closed.
But much more dangerous than New Year's reflection is New Year's resolutions. Though we would all like to do better in the new year, many people set hard goals for themselves that are both unrealistic and unnecessary. Failing those goals, which is often inevitable, can be more damaging and discouraging than if one simply didn't make them at all.
That being said, New Year's can be a great time to plan for your blog's future and to set some goals, but one has to do it well and do it with an eye on realism, not with the weightiness and need for revolution that many assign the holiday.
Remember, it's just a new date on the calendar, not the end of the world.