Add Your Google+ Profile to WordPress with GoogleCards Widget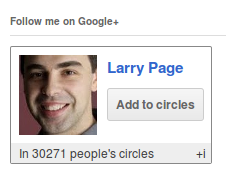 John Henson of PlusDevs developed a handy widget to display your Google+ profile to your WordPress site.
The widget is as simple as WordPress widgets come and only requires you to add your Google+ ID. Sadly there is no option in the GoogleCards to add someone to your Google+ Circles without leaving the site but we hope that this will be integrated to GoogleCards once the Google+ is launched officially and the Google+ API will be released.
Visit PlusDevs to download the plugin here