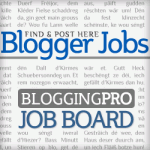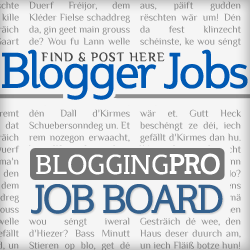 Good morning, folks! I hope you're looking forward to a great weekend.
Here are the job board highlights for you to look at before putting your feet up. Have a good one!
ReachSelf.com, an online resource for weight loss, health and fitness information, is looking for new contributors to join Nagaway's Writer Program. You can suggest topics based on your expertise/interest for our approval, or choose from a list of topics.

A rapidly growing marketing agency is looking to hire a bright content writer with choice copywriting skills on a freelance basis. A steady stream of assignments awaits the right candidate. Since this is a telecommuting position, you will be allowed to create your own work schedule.
An Internet marketing company is seeking a communicative and reliable writer who can produce a large amount of 800-word blogs on a variety of trending health/medical topics. Native English speakers need only apply.
Not your standard "writers wanted" post. We're looking for internet culture savvy writers (with strong technical skills) to write for our 14 sites across a growing network. (**Apologies, we cannot hire outside the US at this time.**)
Author: Noemi Tasarra-Twigg