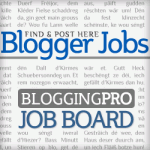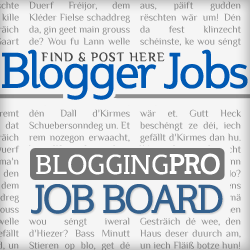 How did your week go? Are you beating any serious deadlines today? Good luck!
Here are the job board highlights to end your week.
Gaia Interactive (www.gaiaonline.com), an online game and avatar community with one of the largest forums in the world is looking for content creators and bloggers to help facilitate community engagement through creating quality content and sharing their work to their social networks. Any content goes, but the more followers you pull into the community, the more they'll pay you.

The SEM Corporate Blogger is a marketer who is a strong believer in the power of content marketing and ethical SEO tactics. This person will be responsible for creating extremely high-quality blog posts multiple times per week in order to improve the company's organic search results and reflect our position as an authority in both marketing and SEO.
WebpageFX is seeking talented outside freelance writing professionals. Excellent opportunity for versatile creative writers. If your writing and working styles meet their needs, they can provide a steady stream of challenging assignments. Opportunities include web sales copy, social media, blogging, longform content, and more.
PJ Media is looking for freelance correspondents located in battleground states to help cover key Senate and gubernatorial races on the ground. All levels of experience from fledgling to veteran journalists will be considered; however, political journalism experience is strongly desired. These are not commentary positions and a background in objective reporting is mandatory.
An East Bay agency client is seeking an Offsite Copywriter with financial experience.
You will be tasked with short form copy – print ad concepts with headlines and small body copy. Along with banner ad copy, radio scripts and direct mail – all deriving from the print ad concept.
Author: Noemi Tasarra-Twigg
Editor of Splashpress Media, writer, and geek bitten by the travel bug.