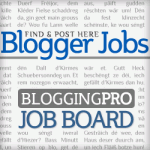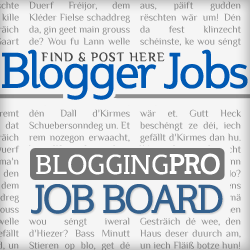 I hope your Monday is off to a good start. Here's something to help with that – the job board highlights from the past week.
Good luck!
Are you a regular writer/blogger?
Do you know about:
– survival
– preparedness
– homesteading
– health and safety
– alternative energy
– long term food storage, canning and dehydration?
Then PrepperZine needs you.

If you are a native English-speaking individual with experience writing high-quality content in the form of blogs and articles, your talent is needed. Please do not apply if you are unable to provide relevant samples or if you are not a native English-speaking individual, as you will not be considered.
Train Eat Gain is all about giving honest, simple advice to help others to live a healthy lifestyle and get in great shape. They are looking for great article writers who:
– Can produce high quality 500-1000 word articles related to fitness and nutrition
– Has a genuine interest in health, fitness & helping others
Perspective Daily (perspectivedaily.com) is looking for a writer for their newly launched website. Perspective Daily is a Performing, Visual, and Literary Arts website. They are looking for a freelance writer that is well-rounded and has worldly knowledge of the Arts. The ideal candidate would be a current or former art student, journalism major, or artist.
A company in the paleo health space is looking to put together a quality cookbook with about 60 paleo recipes.
Here's what they're looking for you to do…
Cook 60 different paleo meals (you can cook 2 a day as your regular meals, so that this will take you 30 days), and then write out the recipe and how to make the meal (along with a picture).
Author: Noemi Tasarra-Twigg
Editor of Splashpress Media, writer, and geek bitten by the travel bug.