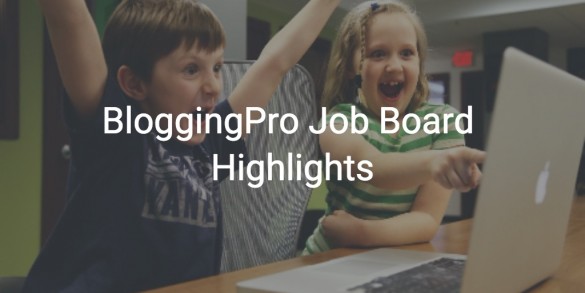 Good morning, everyone.
Once again, we bring you paid blogging jobs from our Job Board.
Good luck!
Paid blogging jobs
An established company in the aftermarket automotive space is looking for fresh, powerful, and attention-grabbing content to keep our customers engaged.
They already have an existing fan base, but looking for more branding opportunities to grow their web presence. They want to keep fans connected by showing them all the cool collaborations, projects, and behind-the-scenes moments.
Are you a writer interested in writing short-form lifestyle and trending news content for sites powered by your favorite social influencers? Check this job out.
Owl Mountain Products is looking for writers who can commit to writing at least 10 articles per month. This amount could increase if desired and performance is excellent.
Please have some demonstrable level of writing experience you can cite, ideally in pets / dogs.
An online media network is looking for a writer who has proven experience in the Apple blogging space. The writer must be able to write list pieces with unique content, opinion pieces, and not simply news. If you are immersed in the Apple culture, this job may be for you.
Malebasics, a brand internationally known for classic and performance underwear is looking for writers or bloggers to create content monthly. The brand also just opened up its first store in Hochelaga.
They want to find 5 to make them experts in the following fields:
-Grooming/Skincare
-Undies/Fashion
-Food/Drinks
-Technology (iPhone, apps)
-Fitness
Author: Noemi Tasarra-Twigg