If you aren't taking advantage of Twitter to find guest blogging opportunities, you're missing out. Twitter is a great way to find and make connections with publishing influencers in all kinds of industries.
Recognize the Power of Social Search
Twitter offers its users more chances to connect with people they don't personally know or share mutual friends with, making it a great platform for locating new guest blogging opportunities. Twitter also offers highly effective, yet simple, search features that can help you connect with the right people.
Additionally, a social search tool like Topsy allows you to search for terms like "guest bloggers," "looking for writers," "write for us," "guest post" and other variations. The results show you who has recently tweeted about seeking guest bloggers, or sites that have recently hosted guest posts and presumably would be open to the idea of hosting more.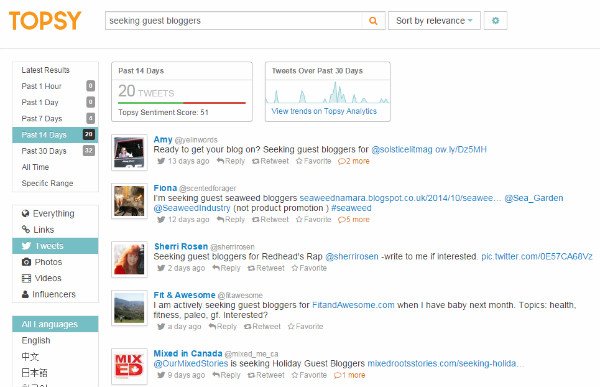 From there, you can tweet back at them or contact them via their website. Take some time to get to know their site before you reach out. Consider whether or not you would be a good fit, and get a feel for the style of the other posts. Read More