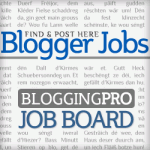 Good morning, folks! I hope you're ready to finish the month with a bang.
Here are the job board highlights from the past week. Good luck!
Are you interested in eCommerce? Do you have any knowledge of inventory management, reputation management and product research tools? Are you curious about what's next for the Amazon marketplace? Do you also have blogging and white paper writing experience?
eComEngine are seeking a skilled writer who also has a taste – or can acquire one – for eCommerce seller tools and related market trends. Expected initial output is 1-2 original blog articles per week and 1 additional piece every month, for three months.
Read More