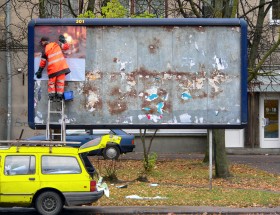 It's the golden road for bloggers, it's how every great writer is supposed to make his millions (or at least thousands) off the Web. You start up an awesome blog, write great content, build a good audience, slap up a few Adsense ads and let the money come rolling in.
While it's a system that works great for some bloggers, for a vast majority it's a road to nowhere. A select few get rich, a few more get some spending money and the majority never even see a check.
For most blogs, advertising is a terrible business model. For them, it doesn't work, it can't work and it never will work. It's that simple.
I learned this the hard way myself years ago and I cringe as I was other bloggers go down the same path, usually falling flat on their face.
Why is advertising such a terrible business model? The reasons are painfully obvious when one takes the time to look for them, but few, blinded by the promise of easy money, see the reasons until they're staring at their paltry earnings report.
Still, for those who want to know why this is a bitter truth, I've outlined five reasons below. Read More