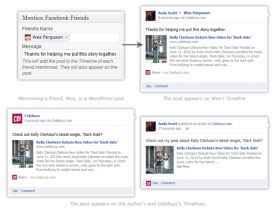 Yesterday, Facebook announced the launch of a new WordPress plugin that makes it easier than ever to integrate Facebook into your site.
Though integration has always been possible, it's been a bit of a headache requiring a mashup of plugins and/or coding to integrate with Facebook's notoriously verbose and complex API.
The new plugin makes integration easy. With a few minutes of setup and no coding, WordPress users can now add a social publisher that blasts their posts out over their feeds and fan pages, replace their WordPress comments with Facebook's alternative, add a recommendations bar that finds related posts and also add like, subscribe and send buttons.
The plugin is both so powerful and useful that Samuel "Otto" Wood, the creator of the popular Simple Facebook Connect plugin, will eventually stop supporting it in favor of the official plugin.
But is integrating your site so tightly with Facebook really a good idea? The answer isn't simple and it depends heavily on your site and the best way to decide is to look at the pros and cons while making the decision for yourself. Read More