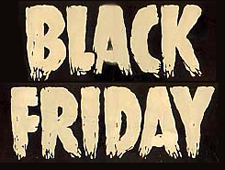 It's Black Friday. That means millions of people are hauled their overstuffed bellies to local retailers for the deepest discounts of the year. And you were so busy shopping for an LCD TV that you don't need, that your forgot to leverage the power of seasonality — in this case, Black Friday — on your blog. Bad boy!
Bookmark this page for next year, cause if you are not riding the Black Friday wave on your blog, you're missing a golden opportunity.
TALK IT UP
With millions of searches a month on each major search engine, all you need to do is get a little creative to grab a sliver of the pie. In the two weeks leading up to the shopping event, you should find every opportunity you can to talk up Black Friday. Don't run a shopping blog? Who cares! You most likely don't run a football blog but talk about the Super Bowl, right?
SHARE DEALS
Lists and grids of where/when to find Black Friday deals always go viral on the Web. Do your part to help spread the word, and in the process, get your posts retweeted and shared. Talk about the discounts that will resonate with your audience. I'm not suggesting you stray from your blog's niche, I'm encouraging you to find Black Friday content that is relevant to your audience and deliver. Read More