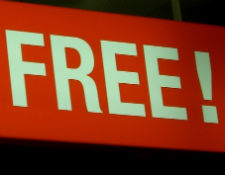 Despite it's meteoric rise and growing business importance, blogging, to many employers, is still (incorrectly) considered the basement of the writing world. I'm consistently amazed at how little people expect to pay bloggers.
Of course it's ultimately the blogger's choice to determine what the value of their service is. Ninety-nine percent of bloggers do not expect to get rich from their work, but most, will gladly take a few dollars off the table for their work. And while making money blogging is awesome, sometimes it makes sense to do some pro bono work. Here are the advantages of writing for other blogs for free.
BUILD CREDIBILITY. Attaching yourself with an established brand improves your trust quotient and helps position you as an expert. And if you ever want to make REAL money blogging, you will need to be an expert.
NEW AUDIENCE. A longer reach means you are getting your goods in front of people who might not have found you otherwise. That can mean additional subscribers, more page views, and additional clicks on external links. Read More