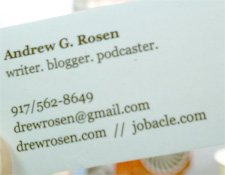 With several major networking opportunities in the near future, it's time for me to replenish my stock of business cards.
The last time around, I purchased some awesome cards from Moo. My favorite thing about these is that you can customize every card. So if you order 100 cards, you can have 100 images on each. I found this very useful in order to target different demographics. The cards are also a unique size, which makes them stick out in a crowd.
This morning I had a colleague hand me his new biz cards, and they are impressive. A heavy card stock created by an eco-friendly green printer, boldly showing off his name and skills.
As a blogger, you need business cards. Now the question is, how – if at all – should these differ from generic businesscards? Read More