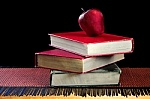 It happened quite by accident.
I kid you not.
It was an average week where I was posting content to my personal blog, when I made a discovery.
I was in the process of doing a review type post where I was sharing my favorite blogs on blogging, and discovered that most of them were written by men!
There must have been some mistake, I thought.
Everybody knows that women are better communicators, right?
Remember the book by John Gray, "Men are from Mars, Women are from Venus"?
So, like Santa Claus, I made my list and I checked it twice.
Read More