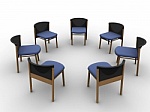 I hate to be the bearer of bad news.
But be forewarned.
If you're a "serious" blogger or writer, at some point or another in your blogging career, you'll be forced to take a stand or express an opinion that may cause disagreement or debate.
Sometimes it may be intentional or strategic on your part. Other times it can come quite by accident.
Suffice it to say, it comes with the territory.
Anytime you have a platform or public visibility, there's a potential for it to happen.
Let's face it.
Words are powerful. And whether they're written or spoken, sometimes people can misconstrue them, "respectfully disagree", or take offense to your word choice or delivery.
No worries. All controversy need not cause dissension.
These situations can provide great opportunity for intelligent debate and enlightenment. Read More