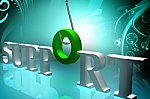 Back in the day when I was a little more ambitious about my health goals, and had more time to devote to maintaining my girlish figure, I joined a health club.
I would work out weekly.
I found that being surrounded by folks with similar goals and interests served as a great motivator and support system. We would share laughter and woes, and serve as each other's cheerleaders.
The same opportunity exists for bloggers wishing to connect with like-minded people who are in the same niche group, of the same gender or profession, and have similar passions or platforms.
Read More