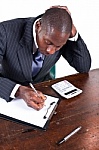 Let's face it.
Blogging looks a lot easier than it actually is.
But just like other creative or professional endeavors, success requires strategy and a game plan.
It's a must have.
I liken it to traveling unfamiliar territories without a road map. The more you know, the further you'll go.
In the business world, a common acronym for evaluating employees' performance is known as S.M.A.R.T.
This can also apply to blogging.
Take heed. Here are the components.
Read More