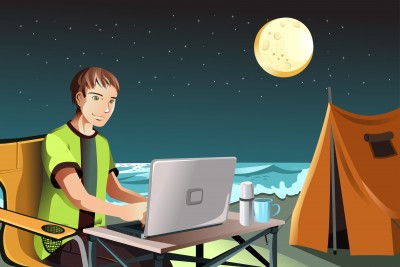 Nature is wonderful. One of the best things to do with nature is go camping in it.
Say you've just returned from your third camping adventure; now what? You remember the feel of the breeze blowing through your hair, the way the leaves crackled under your feet as you looked for firewood. Your senses are reeling from all that nature has to offer. But all of a sudden you realize: the trip is over.
Now you're back home and surrounded by your work. You may feel the urge to write about all you learned while on your camping excursion. Maybe you kept a journal, took loads of pictures, and even shot some video clips. As you look through your camping experiences and read about your adventures, you get the perfect idea.
Why not blog about it! Blogging is the perfect way to share experiences. If your business involves blogging, then you'll want to find ways to write about your experiences that will interest and benefit your reader. With your camping blog, you can also experience your trip all over again and in a whole new way.
There are three basic tips on how to blog about your camping adventures. Check them out below. Read More