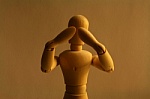 There's no doubt about it.
It's a groovy kinda' feeling when another blogger requests to share his wisdom and his fan base by doing a guest post for your site.
I mean, let's be honest here: who doesn't like a quality "freebie"?
It's the ultimate compliment for most bloggers, other than being paid.
But unfortunately, "all that glitters ain't gold!"
In fact, a blogger buddy of mine experienced this situation first hand, and issued a 9-1-1 for me to help her to handle a recent incident.
This "damsel in distress" found herself being placed in a very awkward situation when a blogger approached her with a potential post. Unfortunately this piece almost appeared to have been written by a 5th grader.