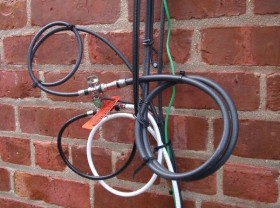 To a blogger, Internet access is much like electricity or water, it is an essential for business and, without it, a home becomes almost unlivable in a hurry.
Unfortunately, even though Internet access is becoming more and more reliable, it is a virtual guarantee that it will go down at some point and not just for a little while. Where we can generally count on our power being restored pretty quickly or getting our water turned on in short order after an outrage, our phone and cable companies may not be able to get our Web access back on for a day or more at a time.
This problem was highlighted for me during the aftermath of Hurricane Katrina. My neighborhood in New Orleans was spared the worst of the storm and I returned home, after three weeks away, to find my home safe and already had power, water and gas restored. Internet, however, would not be restored for another two weeks.
So how do we have to accept, at least for now, that Internet access just isn't as reliable as we would like it to be and that can impact our blogging, especially since it's an activity that, at some point, requires Internet access to take place.
So how do we overcome it? There are many ways, but some a probably more beneficial than others. Read More