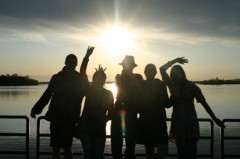 Every blogger wants to be the star of their site. One doesn't usually go through the time to create a site and write for it regularly with the intention of have others show them up and become what matters the most.
However, nearly all successful blogs are something of a collaborative effort between the blogger and their community. Commenters, forum posters and other community members no only help encourage others to visit the site, produce additional (free) content for it and expand the conversation/discussion on everything you write about, but they more importantly add a layer of depth to your writing by bringing in outside viewpoints, something no person can get alone.
Unfortunately, a lack of comments may be turning your visitors away from your site and it can be extremely discouraging for a blogger to put a great deal of work into a post only to find thousands of people read it and almost none take the time to say a few lines.
For a healthy blog, community is crucial and if you don't work to grow it, you may find that your site is left in the dust as others in the niche race ahead to do bigger, better things.