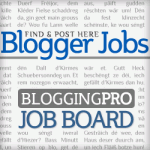 Good morning, BloggingPro readers!
I hope you all had a great weekend and that you're ready to send in applications for new jobs. Here are the BloggingPro job board highlights. Good luck!
Starcasm is a rapidly growing pop culture blog currently averaging over six million page views per month. They are looking to expand our staff with additional full-time freelance writers to cover celebrity and pop culture news stories and non-time-sensitive informational posts of interest.
Applicant should be able to come up with story ideas and write about them succinctly and with a positive vibe. A degree in Journalism, English, or another field with a writing emphasis is preferred, but not required. Possessing some photo editing skills is a plus, as is a joyful appreciation of reality television programming and celebrity foibles.
Read More