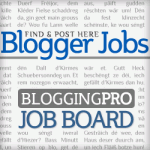 How did you fare when Facebook crashed yesterday? Were you one of those who reacted wittily on Twitter?
Whether you did or you didn't even notice it was down, the show must go on, right? So here are the job board highlights from this week.
FindEmployment – a global employment company based in the UK -has freelance positions available for talented bloggers to join their writing team.
Working as part of a large network of highly skilled and passionate bloggers, you will be expected to write informative, newsworthy and interesting articles for the blog – CareerAddict (www.careeraddict.com).
Read More