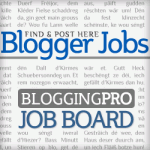 Who's looking forward to September? Before we get there, though, let's make this week a great one, shall we?
Here are the job board highlights for you to start the week.
The world's largest millionaire dating site is looking for freelance writers to work with them on writing high quality articles, and publishing them on websites as well.
Responsibilities include:
– Write articles (based on related topics we give you) and link back to their site.
– After you finish, send your articles.
– Publish it on a website.
Read More