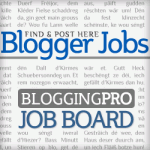 How are you all doing this Friday? I hope your week went as well as mine did, or even better.
Here are this week's job board highlights. Good luck!
The WILD is a culture-based quarterly magazine founded on the idea that fashion and the arts are not mutually exclusive from our socio-political affairs. With a firmly liberal stance, the magazine covers everything from fashion and music to environmental consciousness.
They are looking for freelance writers who share their sentiments. This is your chance to write for print!
Read More