Recently Ajay D'Souza asked how we made our author archive pages here on BloggingPro. I personally am a big fan of displaying content differently on different sections of blogs and also think that archives should be more informative than be just a collection of excerpts.
Because I personally believe that an 'Author Information' block below every entry overkill is, the author archive is the right spot to display more information about every author and also display the entries written by authors in a short and concise way.
Part 1: Adding The Author Description and Gravatar
Creating customised author pages is really simple. Other than some CSS customisation the code for the author description is entirely provided by known and documented WordPress template tags and information gathered from the author profile.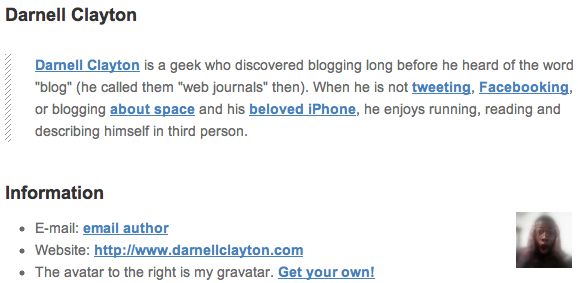 First we need of course a author.php template for this to work and you need to make sure that every author fills in their profile. The code used in following code samples is backwards compatible (to WP1.2!) and makes use of the $ curauth functions documented in the WordPress Codex Author Templates. The email address is protected from spam harvesters. Read More