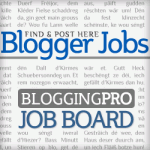 Good morning!
I hope you had a great weekend and are ready to take on the the last week of February.
Here are the job board highlights to help you end the month on a nice note.
Farkie is a premium content marketplace which enables news publications and journalists to work
together on one platform. Farkie is a very simple concept, join, choose a topic to write and get paid for it, it is as simple as that.
They only request our writers to write content regarding Entertainment, Gaming and Tech news, for example the latest Sims 4 news or the latest iPhone 6 information, you will simply choose a keyword from our automated list and once approved, you will be paid for it.
Read More