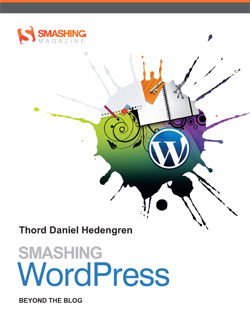 In the first part of the first ever BloggingPro End of Year Giveaway we have an interview with no one less than Thord D. Hedengren. Thord is most known for his WordPress designs and his time as Editor of The Blog Herald.
Thord has been rather quiet in the international WordPress scene over the last months but now is ready to return to the front stage with his soon to be launched book Smashing WordPress: Beyond the Blog. We were lucky enough to interview Thord and are exclusively giving away a copy of his book for 3 of our readers!
Thord, thanks for taking time for this interview. You have been rocking the WP design community for years with your very own signature style but recently you disappeared. What happened?
It's my pleasure. As to me disappearing from the scene, well, it's a mix of work and personal life that switched my priorities. I've been doing a lot of writing the last year or so, the book as you well know, as well as doing freelance work for magazines like MacWorld. I've also worked with Swedish newspapers to roll out a local blog network, and projects like that. It has been nice to return to my own backyard so to speak, being Sweden of course, at least for a little change in work scenery. It was never a conscious decision to slide out of the WordPress community, and I'll remedy that by giving the Notes Blog theme a boost early 2010.
You are the next of a very elusive group to publish a WordPress book. What motivated you to write a book about WP and what can the reader expect from your book and when will it be released? Read More