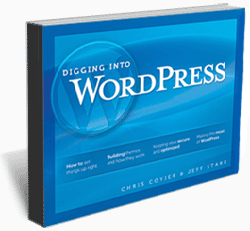 The WordPress book receiving most coverage in 2009 was probably Digging Into WordPress, by Chris Coyier and Jeff Starr.
In December 2009, shortly after publication I had the opportunity to interview Chris and Jeff. The book was initially launched as an ebook for $27 and later a print version with spiral bind was released as well. Printed and bound in house by family, thus sadly checking in at the rather expensive price of $67. More on the price later though.
Who Is The Book For?
If you've ever visited the Digging Into WordPress website you immediately know what to expect from the book. Chris and Jeff have targeted the book at exactly the same audience as the website is written for. This is no book for the WordPress beginner. Read More