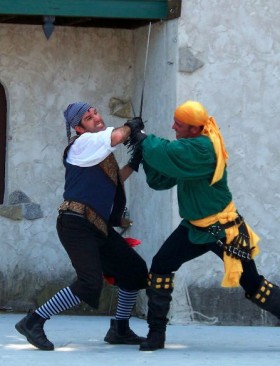 Pretty much no blogger gets to work forever without competition. Blogging is such a crowded space that pretty much everyone has at least one other site out there that could be seen as a competitor or alternative, even if it isn't always a direct one.
Whether you're blogging for business, for passion or for fun, this can be a pretty heavy thought. After all, whether it's dollars or eyeballs, you don't want another site taking anything away from you, especially after you've worked so hard.
But competition online isn't anything like competition in the bricks and mortar world. In the real world, every dollar you spend at restaurant A is one you don't spend at restaurants B-Z. You only have so much money and can only eat so many meals. Furthermore, there's only a certain number of people in a your region, meaning only so many people who CAN visit any of the restaurants in it.
On the Web, there's no such limitation as there's no cost in visiting most websites, people can literally come from anywhere and one's time available for reading sites on a particular topic is limited only by their interest in it.
While competition on the Web is something you have to address, it isn't something you have to fear. So what should you do when your blog faces some stiff competition? The answer is, most likely, to greet them with a hug rather than a clinched fist. Read More