If you take amazing photographs that people want to view the thought of creating your very own photography blog may have entered into your mind, however unlike a standard blog there are certain considerations you will want to take that can help your pics based website gather a loyal following.
---
1. Make Your Photos The Focal Point Of The Website
---
When choosing a template for your photography blog you want your photos to stand out the moment viewers enter your pages. By isolating your work you allow your visitors imagination to run wild, soaking in your photos without becoming distracted by a lot of print the moment they enter your blogs pages.
One example of simple is better design for a photography comes from Theme Foundry and their theme titled "Photography" here's a look at how simplicity shows off an artists work without distracting visitors: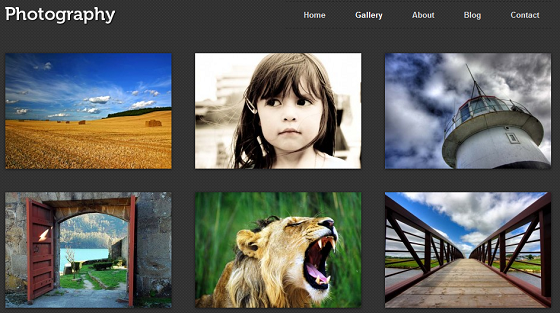 You can also choose to use various photography website builder programs which are offered on "one-click blog creation" services. Typically easy photography blog builders use a portfolio type setup such as the one shown above.