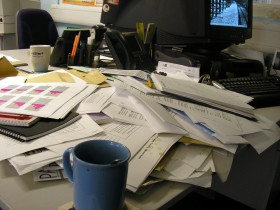 Nearly every blogger has had this experience. You fall ill, go on vacation or otherwise miss a day or two of posting and then come back to a serious mess. With so much to catch up on, only 24 hours in the day and a workload that could crush any mortal, many either just give up or cut corners.
The problem is that, as bloggers, we tend to expect too much of ourselves, we anticipate being able to run at 100% all of the time and, when we can't for whatever reason, we put ourselves in a position where we have to do more than is physically possible to get caught back up.
This leads to a case of blogging overload, trying to do too much with too little time and too little resources. It's one of the most avoidable crises in a blogger's experience but one of the more deadly. After all, when one finds themselves in a situation where they have to do more than is physically possible, they have to make sacrifices that will negatively impact their writing in one way or another.
And these are sacrifices no blogger should ever have to make. Read More