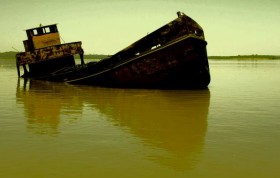 If there is one thing that the recent outages at Amazon Cloud and even the PlayStation Network can show us, it's that even the best, most reliable companies can have serious problems with their hosting infrstructure and can go down.
Unfortunately, as a blogger, you're just a passenger on someone else's ship on the Web. Whether it's a free hosting service like Blogger or WordPress.com, or you have your own server, most likely, some other company is providing the hosting and the access to you. But as reliable as they might have been in the past or as great as they are now, there's always a possibility that things could change.
Simply put, hardware breaks, companies get sold and people change jobs. What was great service and support one day could be catastrophic downtime tomorrow and it's important to be prepared for that possibility at all times. Sadly, this has nothing to do with avoiding unlimited hosting or using a bad host as even the best, most honest hosts can have a problem.
Instead, this is an issue about being prepared for the inevitable, that something will go wrong eventually, and that you don't want to be the one who goes down with the ship. It's a grim situation to prepare for, but one that every blogger has to.
After all, just a few moments of preparation can, literally, save you many hours or even days of headache down the road.