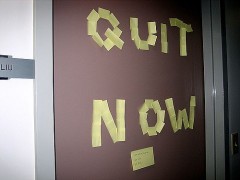 Aging isn't easy. But you already knew that. You feel it in your knees when you wake up. You're cursed with it when you are forced to differentiate between a pimple and a tumor. And it follows you around every time you catch a glimpse of yourself in the mirror. This is not news to me. What IS news to me, is how ridiculously apparent my advanced age became to me last week when my 15-year-old nephew clocked a "faster" fast ball on the radar gun at a local carnival. Something about underperforming a person half my age – a kid who sat on my lap as a lad – has really left a mark. To fight it would be foolish. I could start working out and practicing on a daily basis. I might be able to add a few miles per hour to my pitch when we return next year, but the final result is inevitable; when it comes to physicality, youth wins, every time.
My point here is that you need to know when it's time to give up the ghost. Sometimes there is a right time to accept defeat.
Perhaps your blog has failed.
I won't define failure for you since only you can control what you feel is successful. But in my opinion, it's time to let go of a blog if you are suffering from an evil trifecta known as "The 3 lacks." Read More