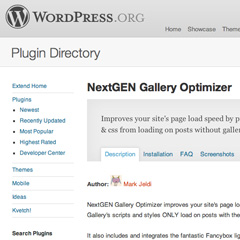 The NextGen Gallery plugin for WordPress is one of the more robust gallery plugins currently available for the open-source platform, unfortunately once installed the plugin is called every single time a page or post is accessed by a user. If you're familiar with server load times at all you know that unnecessary script calls in turn make your website slower. That's exactly where NextGen Gallery Optimizer for WordPress comes into play.
Using this plugin developer Mark Jeldi has made it simple to ignore the NextGen Gallery plugin script and style calls on all posts where the Nextgen shortcode  [nggallery id=x] is not being used.
To start using the plugin simply search for "NextGen Gallery Optimizer" in your "add new plugins" section of your WordPress setup or download it from http://wordpress.org/extend/plugins/nextgen-gallery-optimizer/ and install the plugin in your plugins program via FTP or through the upload function.
Once installed the program offers a very simple interface: Read More