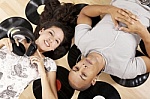 Not too long ago, I received an invitation from a teen-aged blogger to do a guest post on his blog.
I was flattered, but skeptical.
No disrespect intended, but frankly I've got shoes that have had more birthdays than this young fella', (and more mileage).

But, when I clicked on to his site, I was pleasantly surprised and impressed.
My initial chuckles turned into cheers!
Read More