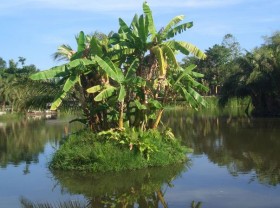 On the Internet, nothing happens in a vacuum. Your site, your traffic and your readers are being constantly impacted and affected by things that are going on elsewhere. If Google makes a change to their algorithm, for example, this can have a drastic impact on your traffic and the type of readers you get.
Likewise, what your readers are looking for and talking about will, inevitably, be affected by what other sites are discussing and what they're seeing elsewhere.
The simple truth is that you don't have a single reader who only views your site and nothing else on the Web. Everyone on the Web is reading other sites, emailing, IMing, using social networking and participating in the Web in countless other ways.
Because of this, you can't try to make your site stand alone or treat it as if it's the only place your readers need to be. Your readers' interests are both varied and deep and, short of having the entire Library of Congress on your site, there's no way you can be all things to them.
As such, the best thing you can do is not try and, instead, try to take advantage of this natural ebb and flow of the Web by using it as a means to both make your site more useful to your readers and, perhaps more importantly, gain even more traffic.
No site is an island unto itself and, even if it could be, it's unlikely that you'd even want it that way. Read More