With the release of WordPress 2.9 expected over the next weeks, it is time to dig a little deeper and discover new features. Since the translation string freeze no new features will be added anymore. Since some days I noticed on another blog where I run the latest nightly developer build, that the new plugin updater had integrated the WordPress.org plugin compatibility check we mentioned some here some weeks ago.
It seems now that this feature comes to your plugin updater within your blog.
WordPress 2.9 New Plugin Updater Functionalities
But that is not all. Another new and very handy function of WordPress 2.9 is that you have the possibility to upgrade all plugins at once.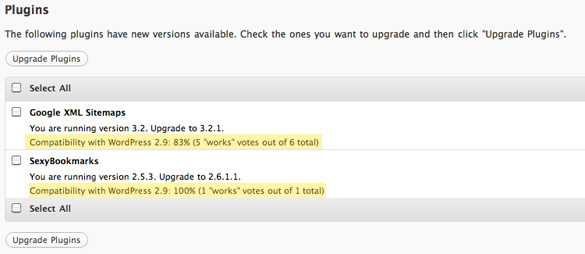 Both are nice additions to the built-in core updater of WordPress but sadly the new plugin compatibility check is not implemented platform wide yet. Read More