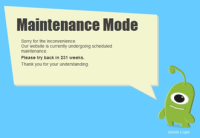 It doesn't take much to make me happy.  Sometimes a little WordPress plugin comes along that makes me smile, and WP Maintenance Mode is one of them.
Let me start by saying — I'm not a web developer.  I'm not a blog designer.  I know just enough CSS and HTML to be dangerous, and I have no problem keeping it that way.  Would it be super handy to know CSS and HTML?  Absolutely, but it's one of those things that always gets pushed down in my list of priorities.
So now that I've revealed that little snippet from my life, back to the WP Maintenance Mode plugin.
Why do I like this plugin so much?  Read More