WordPress Book Reviews
The WordPress books below all are books BloggingPro has reviewed and highly recommends, both for beginners and experts. Follow our WordPress Book Reviews.

WordPress In Depth by Bud Smith and Michael McCallister covers WP 2.9 and might be the most low profile book about WordPress out there, but certainly is the surprise among the books covering WP. The book is well written and covers the popular blogging platform in an easy way, focused at mainly beginners. Read our review of 'WordPress In Depth' here.

Former The Blog Herald editor and WordPress designer Thord D. Hedengren wrote the excellent Smashing WordPress: Beyond the Blog which is aimed mainly at WordPress users with Intermediate and Advanced knowledge. In the book TDH guides the reader through theming and building advanced platforms with the WordPress blog software. We interviewed interviewed Thord for the release of his book.
BloggingPro review upcoming.
Smashing WordPress: Beyond The Blog

Digging Into WordPress, written b Chris Coyier and Jeff Starr, is an excellent guide for advanced WordPress users. The book available both as PDF and print version shares many advanced tips for WordPress and uncovers the platform user many a special tip. Definitely a recommendation. Read our review of 'Digging Into WordPress' here.
Blogging Books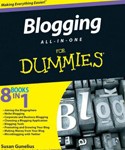 Eight minibooks and over 700 pages deliver all the information you need to choose a blogging application, write content people want to read, build an audience, make money with a blog, and use Twitter to expand your reach.
Buy Blogging All-in-One for Dummies

If you think earning a six-figure income by just sitting in front of your computer, and writing about topics which interests you, then think again! Blogging has finally taken it to the next level and you might just even be one of those fortunate people to earn lots and lots of money through it.
Find out how you can be a problogger.
ProBlogger: Secrets for Blogging Your Way to a Six-Figure Income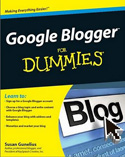 Learn how easy it can be to join the world of online publishing using the most popular free blogging application, Google's Blogger. This step by step guide to launching a blog goes beyond the basics by showing readers exactly how to promote their blogs and earn money from them, too.

Blogging can be complicated for newbies like you but it wouldn't be that much hard when you read the simple instructions in this handbook.Write about the most interesting things and improve your style in blogging the things you like. Definitely, this book is your ultimate guide to knowing the do's and dont's in blogging.
Blogging For Dummies (For Dummies (Computer/Tech))
The Huffington Post editors gives you an entertaining and informative A-Z guide about everything that you can blog bringing you concise and relevant information for newbies and even experienced ones who wants to extend the limits of blogging. It presents you what you should do when you start a blog, easy ways to help you build it, create communities and other strategies.
The Huffington Post Complete Guide to Blogging
Get it straight from the biggest names in the blogosphere. Learn from the most influential and successful bloggers from different fields who blog about parenting, business, entertainment and more. You will be surprised as it is the best way to know how a good blog is established through intimate interviews of Michael Banks to these blog heroes revealing their secrets and philosophies in blogging.
Blogging Heroes: Interviews with 30 of the World's Top Bloggers
Blogging for Fame and Fortune will show you a lot of great ways for your blog to be popular and eventually make money from your traffic focusing in its premise to inform the readers how they can earn money while blogging while emphasizing that getting rich through blogging is not a quick scheme.
Clear Blogging tackles the bright future of blogging and its effects on changing the world's perspective and what you can do to magnify that change. Surely, you will can relate more as the book is very fun to read, comprehendible and conversational while emphasizing on getting started, success through blogging and taking blogging to the next level.
Clear Blogging: How People Blogging Are Changing the World and How You Can Join Them
Publish and Proper tackles and motivates writers and those who need to express their thoughts to blog and eventually earn money through blogging. It gives a lot of necessary information from theory to practice and recommendations on setting up a working blog. Definitely, it preps up your blog in engaging into a business which can give you greater revenues.
Publish and Prosper: Blogging for Your Business
If you do not know where to start but you are so indulged in making a blog, the Moxie Girls will make you feel that blogging is a lot easier and fun to start with. And that you just need to polish your writing styles and get involved in communities online - all these, told in a spontaneous, fun and humorous way!
The IT Girl's Guide to Blogging with Moxie
Youll probably be surprised with a book that will tell you how to get rich slowly, and this probably is it. The book is very promising as it holds lots of strategies to work out on making sure that you get what you need as well as what you desire to do with it. If you are a smart reader, you can extract a lot of good ideas from the book.
The 4-Hour Workweek: Escape 9-5, Live Anywhere, and Join the New Rich
If you are tired of posting boring entries in your blog, then you have to take the next step into achieving a more informational and useful blog! Get inspired and create unique things in your blog as Margaret Mason presents you the methods you can do to spice up your blog.
No One Cares What You Had for Lunch: 100 Ideas for Your Blog
More Books