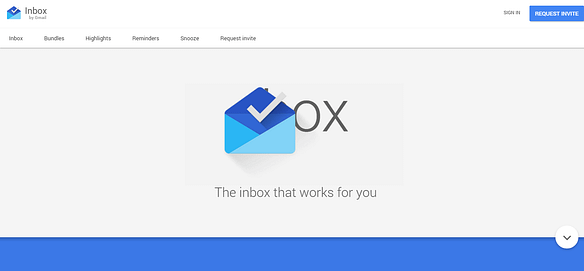 Google has recently launched the Inbox app for invite only. Upon requesting for an invite, I have received a notification allowing me access to the beta version of Google Inbox on my desktop and smartphone. Here's what they mentioned on the e-mail:
Your email inbox should help you live and work better, but instead it often buries the important stuff and creates more stress than it relieves. So the Gmail team built a clean, organized, and helpful inbox to work for you.
From here, one can easily assume that the Google Inbox is the logical replacement to its current mailing system, GMail. Still, considering that the app is still on beta mode, nothing's set on stone for this evolutionary e-mail app from Google. For those who are still waiting for their access after requesting for an invite, below are some of the most important questions raised by this app that you also ought to know.
It is necessary?
Google Inbox app applies the "most important e-mail on top" system (first introduced by the GMail Tabs) through its Bundles feature. What Inbox does is cluster similar and less important e-mails (Promos, Social, Updates, i.e. e-mails that are automatically sent to you) into one entry on your inbox so that e-mail coming from real people appear at the very top and are therefore easily seen.
Read more: Does Forced Email Opt-in Make A Plugin Premium?
Another new feature of Inbox is Highlights, in which preview of the snippet content (text and images) sent by e-mails that are not bundled will be shown on the inbox.
Snippet text refers to the first 40-75 words in the body of your e-mail.With Inbox putting weight on your snippet content, you need to learn how to optimize for them, especially if you're a marketer. To help you optimize your snippet text – also known as the "second subject line" – check out this infographic.
Given these new features, Google Inbox is necessary in the sense that it intends to make the more meaningful e-mails to appear on top and puts emphasis on snippet content so marketers can optimize their e-mails and increase CTR.
Should you use it?
For the sake of being one of the early adopters of this app, it wouldn't harm anyone to request for an invite and try out the app for themselves. However, from my experience, Inbox's layout takes time getting used to, since I have been pretty comfortable using GMail. The new features make a lot of sense for users in the long run, but the layout changes are a drastic departure from how users usually interact with their e-mails. For instance, to clear the bundles from your inbox, you can click the check icon on the right side. You can also snooze e-mails so you can be reminded of them later on.
This is obviously the price people will have to pay for testing out a new product. Some would even say that Inbox is an unnecessary update to the tried-and-true GMail. In my opinion, however, Google will transition users from GMail to Inbox once the kinks from the beta version have been ironed out.
What are the foreseeable effects in the long term?
As mentioned, the biggest impact that Inbox has is how e-mail marketers approach crafting their newsletters and autoresponders for subscribers. While Google Inbox is still on invite-only mode, it's best to at least understand its features and how you can use them to your advantage.
Below are additional resources to read up on to increase your experience with Google Inbox:
Question: Have you tried out the Google Inbox app? What do you think of the features and layout changes? Do you like or hate them? Let us know your thoughts by commenting below!
About e-mail marketing: