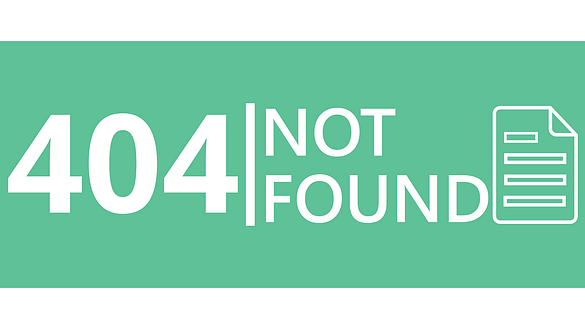 One of the most dreaded pages in your blog is the 404 page, also known as the error page. Visitors stumble upon this page when they entered the wrong URL to a page or clicked a link to a page that no longer exists (or never existed) in your blog.
From some, 404 pages is the end of the line between the visitor and blogger. Since the visitors are expecting to come across one of your blog posts and instead landed on your 404 page, there's a huge chance that they'll bounce away from your blog, never to visit it again.
Because of this belief towards error pages, there's a tendency of bloggers to ignore their 404 pages and instead ensure that all the links pointing to their blog posts are correct. Marketers would even go far as to capture broken inbound links and correct them, which is a great SEO practice.
However, what happens now is that the 404 page is left to look like a wasted page in your blog, similar to an underdeveloped real estate property.
Let's face it – as hard as you try, your target readers will eventually slip through the cracks and stumble upon your error page. As a result, it drives your intended readers away from your blog.
Your blog's 404 page does not have to be a deal-breaker between you and your target readers. As the saying goes, you can always turn lemons into lemonades. Build and optimize your 404 page so that visitors who stumble upon this page in your blog will not only stay on your blog and browse your other pages, but also convert them into subscribers or customers!
To achieve these, below are ideas on what you should do to make your 404 error page beneficial to your blog's objectives.
Learn how to customize your 404 page
Optimizing your 404 page depends on your blogging platform you're using. Here's a link on how to customize your error page in WordPress. There are resources how to do this on Blogger and Tumblr as well. The latter two resources let you copy and paste a code with a customized text that will show on your 404 page. You can edit these as you see fit. (To learn which elements you should include in this page, refer to the second tip below.)
If you're hosting a different platform to run your blog, you can follow this guide in creating a 404 page from your .htaccess file.
Include the best possible elements to encourage visitors to stay
Now that you know how to create and edit your 404 page, below are ideas on which ones to include in the page:
Feature your latest and most popular blog posts on the page. This way, they will not only see the page they intended to visit, but also see other pages that may interest them. Click here to learn how to do this on your WordPress blog.
Include a contact form so people can reach out to you for questions or inquiries about the missing page in your blog.
Place a search bar that will allow visitors to look for the page they were hoping to visit in your site. This is a default feature in a WordPress 404 page but you can make it look much better by adding the right web copy to encourage people to search for the missing content.
Place your email signup form or link to your landing pages on the error page. The idea here is to not let people leave the page without getting something in return. By directing them to performing on your desired actions, you get to maintain their engagement with your blog.
Get inspiration from these 404 page examples featured at Hongkiat.
More on 404 pages: